Prof. Jr. J. R. Taylor
JPhysics Dept. Imperial College, London ( Feb 2013)
In addition, I must also write a note of appreciation of the cultural programme that was presented by the Indian Folk Dance company Nrityanjali for NLS 21. Their performance was an absolute highlight of my visit. With little time available to soak up Indian culture during such a short visit, this vignette of folk dance and life through many of the provinces of India gave me , and I am sure many of the overseas visitors, a taste of the real India. I was really impressed by the enthusiasm of the dancers. To see a company whose ranks come from all walks of life and to experience their joy of performance was an uplifting experience. It was so apparent that all the performers actually enjoyed what they were doing and their enthusiasm most certainly transferred to the audience. I simply cannot express just how much I enjoyed this performance and the vitality of the performers. It was a stroke of genius to select this particular group of dancers to provide our entertainment and education in Indian culture. I would be grateful if you could pass on my thanks to all the dancers .
Prof. Dr. P.K. Datta
Physics Dept. IIT, Kharagpur ( Feb 2013)
It was a rare opportunity for me to enjoy a cultural programme of my liking. It was appropriately themed for the level of audience and the performance of each and every artist demanded spontaneous claps. I wish to see more performance by the Nrityanjali in future.
Mrs. Minel Varghese
Sr. HR Personnel, Sandoz (January 2012)
Train the Trainer Programme was an excellent programme conducted for our associates at Sandoz.

The programme placed a lot of emphasis on communicating effectively and also on developing one's presentation skills. The Trainers used a participative mode of learning which helped the associates to learn better.
Mrs. Chetana Pathare
Social Counsellor PWD, Larsen & Toubro Limited (February 2012)
Participants appreciated the workshop Pathway to Career Excellence - Grooming for MBA Aspirants and felt it will be really helpful for their future endeavourers. These Children of L&Tites are at the threshold of making choices about their careers, appearing for their admissions in the prominent colleges & institutes. This workshop was helpful for them to do preparation. They were able to understand expectations and requirements of the professional institutes and the business community. They said more such sessions with detail discussions and interactions will be helpful.
Mrs. Jayashree Panicker
Professor Psychology Dept. CHM College, Ulhasnagar, (February 2012)
The 6 workshops on Professional Excellence conducted by Nrityanjali in Smt CHM College was par excellence. Students were very happy and satisfied with the workshop. The feedback given by the students was that they wish to attend a few more workshops on these lines in the future. The team from Nrityanjali conducted the workshop very professionally and gave important guidelines to the students on how to present themselves for the Interview and group discussion. The knowledge about grooming and etiquette was also very helpful. Since it was an interactive session students enjoyed it very much. The organizers are also happy with the feedback given by the students and we hope to have such programmes in future with Nrityanjali.
Mr. Amit Sharma
Sales Personnel, Jetking (March 2012)
Communication & Presentation Skills training by you is one of the very few trainings which I'll remember all my life. Few things which were different and unforgettable are:

The energy level of Dr. Tushar Guha
Expressions (happy, sorrow, excited etc...) of Dr. Anonna
Positive approach... can't understand how can Dr. Tushar Guha be so accurate in identifying characteristics of a person Spontaneity

Dr. Jayakumar Satav
Sr. Personnel Wockhardt Pharma, Aurangabad ( April 2012)
The programme on Conflict Resolution was a very nice programme presented by you and Nrityanjali Management Services. Thank you very much for a good presentation
Ms. Rupali Lonkar
Executive Wockhardt Pharma, Mumbai ( May 2012)
I learnt various things during this programme on Time Management which is really useful in my real life.
Thanks.
Mrs.K. Sirisha
Mother of summer camp participant K. Anusha, Mumbai ( May 2012)
Dear Tushar Guha Sir, K. Sirisha, mother of K. Anusha & wife of Mr. Ravi Shankar, first of all like to sincerely thank you & the Nrityanjali team for all the care taken of my daughter K. Anusha throughout the 5 day Personality Development camp. It was a great learning experience for her & she thoroughly enjoyed the camp. I would like to request you to kindly send forward the pictures of kids, clicked in summer camp, Panchgani so that I can save these pictures as her sweet memories.
Mrs. Meenal Joglekar
Jt. Director, Cultural Ministry, Maharashtra (January 2012)
Nrityanjali artistes presented a wonderful programme of Folk dances of Maharashtra at the Kullu Dassera Festival in Himachal Pradesh. It is a pleasure to have a troupe that conducts itself so well.
Mr. Jayant Khuspe
Asst. Manager, Technology Transfer, Sandoz (October 2011)
The session Train the Trainer was very informative and useful not only in our professional life but also in the personal life. Personally I have seen very special Human Values in Dr. Tushar Guha Sir to deal with "rational" human beings. I have learnt a lot from the session and will utilize the learning in day to day life.
Dr. Tan Kah Chye
Head Addest Technovation, Singapore (May 2011)
I am very touched by Dr. Tushar Guha's encouragement and enlightenment, and treasure very much his friendship and mentorship.
Mr. Manish Sharma
Engagement Manager, Tata Consultancy Services Bank of America Relationship (July 2011)
It has been a decade of relationship with Nrityanjali now. I started my career after completion of Special Personality Development Course and mentoring under Tushar Guha Sir in 2002. In past 10 years of career I gained several recognition and role progression in the industry.

I would like to thank Nrityanjali Family - their support and encouragement all through the years. The credit of my success goes to Tushar Guha Sir who has shaped my personality and attitude with his consistent mentoring and grooming.
Mr. Tejash Mehta
Assistant Manager HR, Inventia Healthcare (July 2011)
The session Presentation Skills conducted by Nrityanjali management Services at our Ambernath Manufacturing Unit was indeed a great learning and was very helpful.
Mr. Anjani Kuma
Head Cipla, Patalganga (September 2011)
We must thank Dr. Tushar Guha and his team for conducting this two day programme where we all at Cipla got benefitted. I am sure my team will implement all the learnings gained during the programme.
Mr. Prabodh Halde
Head Product Integrity, Marico (October 2011)
We would like to thank Dr. Anonna Guha for her wonderful presentation on CHANGE during our Marico technology meet. All participants liked the speech and they were very motivated to learn the new things in life.
Ms. Snaha Thobhani
Corporate Communications, Viraj Profiles (January 2011)
Thank you for the continuous support we receive from you and all the team, as we did now for the programme Vyaktitvam through the arts. We look forward to the next collaborative event.
Dr. G.C.Banik
Director Institute of Management & Computer Studies (October 2011)
This is regarding the Faculty Development programme – PERSPECTIVE DEVELOOMENT conducted by Nrityanjali Management services. It was excellent and they were greatly benefitted. The entire programme of Faculty Development on that day, was really very interesting and educative.
Mrs. Vanita Mansukhani
Principal, The Scholar School, Colaba (December 2011)
I would like to thank Nrityanjali especially Dr. Tushar Guha and Mr. Girish Dalvi for the efforts taken to encourage our students.
Mrs. Sushma Tiwari
Principal Model English School, Dombivli (December 2011)
Nrityanjali FEST interschool competitions is the right platform for our students. We have been participating in it for the last several years and it has indeed helped my students become more creative. Congratulations !
Ms. Rashmi Dewan
Vice President, Head Corporate Communications BSES Yamuna Power Limited (December 2010)
Just wanted to let know that I thoroughly enjoyed the 2 day workshop on Interpersonal Skills with Nrityanjali at Dahanu. I specially liked the concept of: "overflow", the key to understanding people lies in our understanding of life. I am positive the ice-breaker team games that you conducted will help our Delhi - Mumbai teams work better.
Mr. Ravi P Muthreja
Group Head - Corporate Communications, Reliance Infrastructure Ltd. (December 2010)
It was indeed nice to have interacted with Nrityanjali Management Services. Am sure the team added to their learning curve from the contents of the workshop on Interpersonal communication skills.
Doris Thomas Pereira
Student of Narsee Monjee institute of Management Studies (May 2011)
Life has been great after the Perspective Development sessions. I've improved my soft skills a lot. My best wishes and regards to Nrityanjali and Dr. Guha for the beautiful work that you are doing.
Ms. Asha Chawla
Principal, R.J. Makhecha School – Mumbai (February 2011)
We are grateful to the staff of Nirtyanjali for conducting the life Skill Program for our Students from Std-III & X various topics. As per the Model Time-table provided to us. These seminars were proved to be informative, encouraging & brought awareness of different skills among the students. Faculties were found confident while giving the lectures on the topic allotted to them & made the classroom environment more interesting.
Divyangana Srivastava
JT. DIRECTOR HR NMIMS (November 2010)
Sincere thanks for all the great efforts and for an equally enriching workshop for all of us.
Mr. Bimal K. Roy
HR-Learning & Development - Reliance Cementation Pvt. Ltd. ( August 2010)
This is to thank you for partnering with us for the Team Building Initiative at Reliance Cementation. We all had a great learning experience and good fun too. I hope the feeling is mutual. I, on behalf of the whole Reliance Cementation team, would like to thank you for extending support and cooperation during this exercise. Looking forward to more such associations in the times to come. Keep up the good work!
Dr. Bigyan Verma
Director – Kohinoor Management Institute – Lonavala (January 2009)
Dear Dr. Tushar Guha, I cherished every moment of your speech. My little chat with you, was also a process of learning for me. When I referred to your qualities in my speech, I truly felt every word I uttered about you.
Beena Jacob
Trainer & Manager HR Zicom (Feb 2008)
"Being trained by Dr.Tushar Guha and Nrityanjali Management Services (NMS) was something I was looking forward to and to say the least he didn't disappoint me one bit. The content of the training was well designed to suit the needs of the audience, but it was his training style that was contagious. A blend of humour and dramatics portrayed by him helped me enhance my own abilities and sharpen my skills."
Rohit Gupta
Group Brand Manager - Pharma (Mktng) Ranbaxy India Ltd (Apr 2008)
"It was our pleasure to have Dr. Guha with us and his presence really enriched our program. We are definitely looking forward to a longer association."
C A Lakshmi
Educationist (Mar 2008)
"I feel I have been put through a washing machine, thoroughly cleansed and my old self has shrunk and my soul can no longer fit into it. I am now the same person but with Detoxified consciousness."
Yash Pagnis
Nirmal lifestyle, Events & Marketing (Jun 2008)
"It was truly a wonderful association with you and that our patrons had never witnessed such a great performance ever. We are very much thankful to you for delivering such performances with great enthusiasm. It was only because of your performance that we received great crowd response."
Dr. C.G. D'lima
Director - Rizvi Institute of Management Studies and Research (Aug 2001)
"An Individual not an organisation creates excellence and collective efforts of such individuals build an organisation."
Mr. K. Vijay Raghavan
Director - Managment Study Centre Chennai and Former Collector Customs and Excise. (Jan 2001)
"Nrityanjali's Belief that "WE CAN MAKE OUR LIVES BEAUTIFUL IF WE WANT" is so apt and remarkable. Indeed"BEAUTY IS TRUTH AND TRUTH IS BEAUTY" - and realisation of truth, realizing one's potential justifies Nrityanjali's expression IF I AM NOT BEAUTIFUL IN MY OWN EYES, HOW CAN I BE BEAUTIFUL IN THE EYES OF OTHERS."
Mrs. Grace Pinto
Director St. Xavier's Group of Schools (Oct 2001)
"Nrityanjali's convincing, disciplined and constructive way of communication has enriched the teachers to sharpen their skills and sights.
Capt. Subramanian
Principal, LBS college of Advanced Maritime Studies and Research (May 2000)
"I was spellbound watching your Indian Folk and Greek dances. The Kathak and the Bharatnatyam dances were simply spectacular."
Mrs. Sakuntala Narsimhan
Eminent Vocalist, Journalist and Author (Jan 2000)
"Your Parichay Mein Parichay issues are creating a problem for me. I like to preserve them and am running out of storing space. Keep up the good work"
Mrs. Sakuntala Narsimhan
Eminent Vocalist, Journalist and Author (Feb 1999)
"Nrityanjali is incredible. Even your house magazine PMP reflects your multi dimensional activities. It is amazing to be able to read such varieties of subjects."
Dr. Blanche Barnes
Head Dept. of Psychology, SNDT University (Apr 1998)
"Nrityanjali is a blend of performing arts and education."
Suresh Prabhu
Minister of Environment and Forest, Govt. of India (Jul 1998)
"Nrityanjali's Quaterly house Magazine "Parichay Mein Parichay" makes very interesting reading."
Smt. Himadevi
Speech & Drama Exponent (Apr 1998)
"It was wonderful to see dances full of life and smile."
G. Narayan.
Industrialist Philosopher and Author (Dec 1997)
"Nrityanjali says it is small, but in effect it is not so. Because in the word small we also have the word "ALL" you are doing yeomen service to society."
Krishnachandra (Daji) Bhatavdekar
Emminent Dramatist (Dec 1996)
"I am so impressed that Nrityanjali caters to so many things - all of which collectively goes to build a sound Personality which is Nrityanjali's basic objective. I have yet to see another wonderful organization like Nrityanjali in my life span of 76 years."
Mrs. Kumud Bansal
Secretary, Ministry of Education, Government of Maharashtra (Feb 1996)
"The personality development quotes from Shri. Tushar Guha's book Perception of Personality provides us with an indepth study of his work. I am happy to release his book in the three languages English, Hindi, Marathi."
Padmashree Damayanti Joshi
Kathak Exponent (Nov 1995)
"Nrityanjali is totally dedicated to performing arts and the performances prove it."
Mr. Jayadev Hattangady
Dramatist (Oct 1995)
"Nrityanjali is brilliant as an organiser, educator and ofcourse in performing arts."
Ms. Luku Sanyal
Compere, Lecturer & News Reader (Oct 1994)
"Nrityanjali is a vibrant organization and excels in performing Arts, Education and Personality Development."
Mrs. Kumud Bansal
Secretary, Min. of Education, Govt. of Maharashtra (Mar 1993)
"Nrityanjali has a philosophy to offer and we are open to it and accept it."
Mrs. Protima Gauri Bedi
Odissi Danseuse (Mar1993)
"Nrityanjali is multi Dimensional and very spirited"
Mr. Nana Chudasama
Chief Guest at CONFEP 93
"I am amazed to see so many Personalities Personified in this Conference. Nrityanjali proves it."
Dr.(Ms) Mithilesh Saxena
Director, Swami Vivekanand Engg.College, (Feb1991)
"Nrityanjali is doing our work - the work of the educationalists, principals & teachers, inspite of not being in the education profession. It is really commendable !"
Dr. M.V.Atre
Principal, Smt. P.G.Garodia English High School, Ghatkopar.(Feb 1992)
"Nriytanjali is a fabulous well-managed organisation of dedicated people. You are doing our work that too by not being in the education profession directly. Your activities are a must for a complete personality."
Dr. Indu Pandit
Principal Gurunanak College of Ed. & Research, Bhandup (Feb 1992)
"Congratulations for undertaking & spearheading such wonderful work of cultural renaissance. Very commendable indeed."
Smt. Jayawantiben Mehta
M.P. (Jan 1990)
"Extra ordinary performance! You deserve international exposure."
Indian Express
(May 1983)
"Nrityanjali is an organisation dedicated to the promotion of music & dance."
Shri Suresh Prabhu
Chairman, Saraswat Co-operative Bank Ltd (Feb.1992)
"Nrityanjali is a beautiful blending of professional efficiency, dedication & love of its 'Non Professional Members'."
Blitz Hindi edition
(Jul 1984)
"Kuhakini, is engrossing dance drama, with heart rendering music, superb performances."
Times Of India
(Nov.1982)
"Nrityanjali, presents shows to raise funds for its classes in fine arts."
Mrs. Sarla Birla
(Jan 1988)
"Your dance drama Sagar is unique"
Capt.Kirtikar
Secretary Droca (Jan 1988)
"Sagar the dance drama is wonderful, reflects the sentiments of Mariners."
Eve's Weekly
(Nov 1982)
"Nrityanjali is for lovers of music and dance."
Navbharat Times
(Jan.1977)
"Kalomegh captures typical environment of Bengal village. The music and dance compliment each other."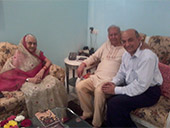 Dr.Tushar Guha seeking blessings from Smt. Sarla Birla and Shri Basant Kumar Birla